A collaboration of the Resilience Alliance and ResNet, the course will explore key methods used in resilience practice. NEW DEADLINE for applications: June 15, 2022.
APPLICATION DEADLINE EXTENDED TO JUNE 15, 2022
The annual Resilience Alliance (RA) short course is a collaboration of the Resilience Alliance network and ResNet (www.nsercresnet.ca). In 2022, the course will be taught online by international experts and attended by post-graduate students (Masters and PhD) and post-doctoral researchers from around the world.
The purpose of this exciting one-week course is to draw on the expertise of scholars in the RA network to teach about resilience as conceptualized and studied by RA scholars and to facilitate collaboration among a broader network of students and researchers. Approximately 25 applicants will be accepted to participate in this course.
2022 THEME: Resilience Assessment and Methods
In 2022 the course will focus on resilience assessment and related social-ecological systems methods. Drawing on The Routledge Handbook of Research Methods for Social-Ecological Systems, the course will offer a unique opportunity to learn directly from many of the researchers who contributed to the book as chapter authors. Topics will include: the evolution of resilience assessment, data needs and opportunities for assessing the resilience of systems, future scenarios and resilience assessment, systems scoping, and dynamic systems modelling.
FORMAT
The five-day immersive course will be asynchronous with two online sessions daily coupled with offline readings, presentations, and a group project. Participants will meet with instructors in plenary and in small groups for two 75-minute sessions between the hours of 11:00am - 2:00pm EST each day.
LECTURERS
Allyson Quinlan (Convener) - Resilience Alliance, Canada
Elena Bennett - McGill University, Canada
Reinette Biggs - University of Stellenbosch, South Africa
Jennifer Hodbod - Michigan State University, USA
My Sellberg - Stockholm Resilience Center (SRC), Sweden
Alta de Vos - Rhodes University, South Africa
Steven Lade - Australian National University & SRC
Nadia Sitas - University of Stellenbosch, South Africa
Juan Rocha - Stockholm Resilience Center, Sweden
Paul Ryan - Australia Resilience Center, Australia
HOW TO APPLY
Post-graduate students (Masters and PhD) and early-career researchers are invited to apply by completing the online application form by June 15, 2022:
https://forms.gle/Lg7xSA1eB3n7P9ib9
There is no fee to apply. Students accepted for the course will be required to pay a registration fee of $125 USD. A limited number of grants are available to qualifying students who are unable to fund their attendance.
More information here.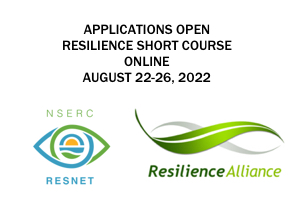 Keywords: resilience assessment, short course, course, training, methods