This project is a regional resilience assessment of a catchment region in South-eastern Australia. Theory for applying resilience thinking to natural resource management is well developed, but there are few real world examples where it has been used to guide development of regional plans. We present case studies from south-eastern Australia where resilience concepts have been used to guide planning processes with Catchment Management Authorities (CMA). The Catchment Action Plans produced are intended to coordinate whole-of-government and community investment in natural resource management (NRM) at a regional scale. Our approach is broadly based on the Resilience Alliance's Assessing and managing resilience in social-ecological systems: a practitioners workbook, modified to suit the specific purpose and stakeholder audience. We use a three-step process: Defining/describing the system, resilience assessment, implications and interventions.
The case studies highlight the value of resilience-based approaches to participatory planning, bringing new perspectives to technical problems and challenging stakeholders to develop a systems understanding of their region, something missing to date. The process highlighted a number of challenges: i) The emphasis of resilience thinking on linked social-ecological system confronts the 'silo' approach to natural resource management whereby social and ecological issues are dealt with separately by centralized government agencies. ii) The limited capacity of regional organizations to develop, analyze and revise threshold based approaches to natural resource management. iii) How to engage regional communities in issues about the longer term trajectory when immediate issues dominate. These challenges reflect the need for adaptive, cross-scale processes to incorporate resilience-based concepts at all scales. As such the process is about on-going evolution of the natural resource management system, something that cannot be achieved in a one-off planning process, highlighting the need for on-going commitment and engagement from all parties.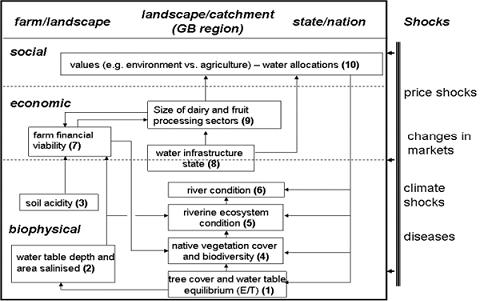 Figure adapted from Walker et al....
Project Goals
This project seeks to highlight the value of resilience based approaches to participatory planning.
Documents
Resilience, Adaptability, and Transformability in the Goulburn-Broken Catchment, Australia
Walker, B. H., N. Abel, J. M. Anderies and P. Ryan. 2009. Resilience, adaptability, and transformability in the Goulburn-Broken Catchment, Australia. Ecology and Society 14(1): 12.

Location: South-eastern Austalia
System Type: Agriculture
Contact: Paul Ryan
Organization: CSIRO
Project Dates: 2003-2010
Keywords: irrigation; salinization; grazing; farming; governance; natural resource management; planning; thresholds