The seeds of SESMAD were sown at a meeting of RAYS (Resilience Alliance Young Scholars) several years ago and have developed into a web-based database of SES theories & now a paper in Global Environmental Change.
Recently published in Global Environmental Change, "Synthesizing theories of natural resource management and governance" by Michael Cox and colleagues, is an important output of a multi-year collaborative research project initiated by a group of RAYS researchers back in 2011. The paper aims to integrate different disciplines to explore human-environment interactions and uses a publicly available online database that the researchers developed to connect theoretical statements of coupled social-ecological systems to outcomes.
The online SESMAD database provides a broad collection of case studies carefully coded by trained researchers to facilitate their analysis and synthesis.

SESMAD database: https://sesmad.dartmouth.edu/

Excerpt from the SESMAD homepage:
"Welcome to the website for the social-ecological meta-analysis database (SESMAD) project! The goal of this project is to enable highly comparable case analyses of a diversity of social-ecological systems. The SESMAD project is unique in several respects. First and foremost, it is a collaboration that began with fourteen young scientists from diverse backgrounds, each trained to consistently code data into a common database. The SESMAD project began during a conference held by the Resilience Alliance in the spring of 2010 (sic). During this conference, a group known as the Resilience Alliance Young Scholars (RAYS) met and formed teams oriented around particular projects. SESMAD was one of those projects. Project members became part of the project either through their affiliation with RAYS or with the Workshop in Political Theory and Policy Analysis at Indiana University, a well-recognized leading center in the synthetic institutional study of small-scale common-pool resource management."
Full citation:
Cox, Michael, S.Villamayor-Tomas, G. Epstein, L. Evans, N.C. Ban, F. Fleischman, M. Nenadovic, G. Garcia-Lopez. Synthesizing theories of natural resource management and governance. Global Environmental Change 39:45-56.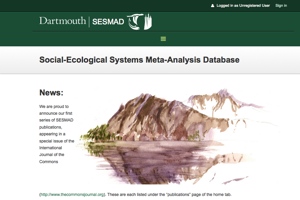 Keywords: theory, database, SESMAD, natural resource management