McGill University researcher Dalal Hanna, along with her co-authors, present a case study from the Outaouais region of Québec, Canada.
Recently published in the journal Ecosystem Services, the paper describes a framework and process for shedding light on actor's disatisfaction with the type, amount or quality of ecosystem services available to them. Through a combination of a survey and workshop, the authors identify actions that can be taken to address the discrepancies between desired and provided ecosystem services.
Working with local organizations and diverse stakeholders, and deliberately designing a process to enable learning and the co-production of knowledge, the researchers hope that this type of approach can reduce conflict among actors and more generally foster better relationships between people and nature.
Reference:
Hanna, Dalal, D.J. Roux, B. Currie, and E.M. Bennett. 2020. Identifying pathways to reduce discrepancies between desired and provided ecosystem services. Ecosystem Services 43. https://doi.org/10.1016/j.ecoser.2020.101119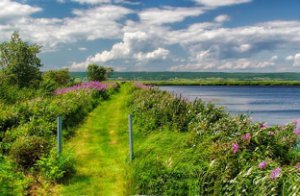 Keywords: ecosystem services, Quebec, Canada, Outaouais