Filmed in Cambridge Bay, Nunavut, "Hivunikhavut - Our Future" shows how participatory scenarios developed with local residents can be used to explore future change.
As part of her Ph.D. research at McGill University, Marianne Falardeau produced a short film based on her work in the Kitimeot region of Canada's Arctic. Titled "Hivunikhavut - Our Future", the film presents a participatory scenario project that explored the future of the Kitikmeot Marine Region of Nunavut by 2050. Along with her colleagues Ciara Raudsepp-Hearne and Elena Bennett, Marianne designed and facilitated a participatory scenario exercise in Cambridge Bay, Nunavut in 2017 and 2018. The short film features workshop participants and their reflections on the process of creating scenarios as a way of exploring and shaping future changes in the region.
An outreach report documents the scenario work, presenting three scenarios developed by workshop participants and discusses how the scenarios might be used in the future to help bring about desirable outcomes.
The short film can be found here: https://youtu.be/ch7mW9eUqms
Trailer here:https://youtu.be/swaNn034Kjs
Report and an executive summary:
http://digitool.library.mcgill.ca/R/-?func=dbin-jump-full&object_id=162490&silo_library=GEN01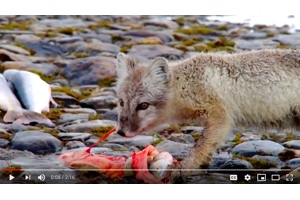 Keywords: Future scenarios, Arctic, participatory scenarios, Kitimeot region, Cambridge Bay